Commonwealth Scholarship at the National University of Singapore 2020/21: Applications for the Commonwealth Scholarship for Postgraduate students at the National University of Singapore are invited from qualified students from commonwealth countries for the 2020/21 academic session.
The scholarship is awarded to outstanding students enrolling for a postgraduate study programme leading to a higher degree at the University. The scholarship consists of a monthly stipend plus a tuition fee subsidy. Students from Commonwealth countries are encouraged to apply.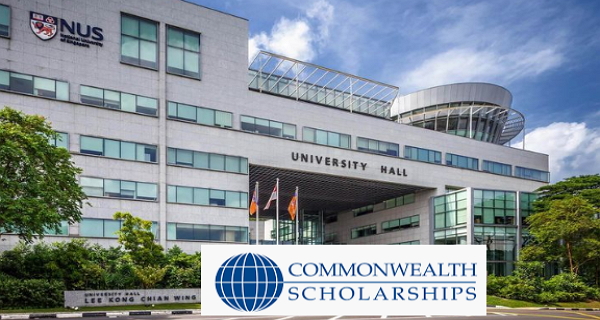 Scholarship Sponsor(s): Commonwealth Countries
Scholarship to be taken at: Singapore
Scholarship level: Postgraduate
Scholarship Slots: Several
Scholarship Worth: See Scholarship Benefits
Subject Eligibility: All disciplines
Country/Candidate Eligibility: The scholarship is for students from the Commonwealth Countries.
Scholarship Eligibility and Selection Criteria: To be considered for the Commonwealth Scholarship at the National University of Singapore 2020/21, applicants are to meet the following criteria:
Applicants must be nationals from any Commonwealth Countries except for Singapore Citizens and Singapore Permanent Residents.
Applicants must have graduated with an undergraduate degree with at least Second Class Honours (Upper Division)/Honours (Distinction) or its equivalent.
Applicants must at the time of award of the Scholarship be offered admission to a full-time graduate research programme at NUS.
Applicants must be willing to abide by the guidelines governing the conducts of students at the University.
Applicants must demonstrate strong leadership and academic potentials.
Scholarship Benefits
A monthly stipend ($2000 and $1500 for PhD and Masters students respectively).
Tuition fees at the University
Scholars in a PhD programme may be eligible for an additional stipend up to $500 per month upon passing the PhD Qualifying Examination (QE).
---
Application Procedures for the Commonwealth Scholarship at the National University of Singapore 2020/21
How-to-Apply
Applicants who are incoming graduate students should indicate their interest in the Scholarship in their application for admission at the National University of Singapore for the academic session.
Applicants are to ensure that they attach relevant supporting documents during their application process.
Application Deadline: Ongoing
Visit the Official Website for more Details